Founded in 2000, our mission was simple – provide a quality, secure, and keyless medication lock box at an affordable price.  Riemer Systems is a manufacturer on the forefront of medication security and medication management.
Mission
To provide simple, effective, and affordable lock box solutions to help our customers improve medication management in healthcare.
Our Philosophy
Our philosophy is to keep things simple, affordable and listen to what our customers want.  We have the quality and experience you demand for a secure product while providing that small company response and support you are looking for.
Accountability
Riemer Systems honors our responsibility to deliver quality lock boxes & stands behind every lock box sold.
Customer Service
Riemer Systems is a US based manufacturer who values our long-term commitment to our customer from personal sales to support.
Excellence
Riemer Systems manufactures reliable lock boxes that you can count on and prioritizes quality above all else.
Security
Riemer Systems prioritizes secure, controlled access to medications, emergency equipment, and other critical items.
The Portable Lock Box Solution
Riemer Systems was founded in the year 2000 by Dave Riemer. Riemer Systems was founded to solve a common problem in the hospital industry. The traditional methods of managing keys and locking medications were problematic. Furthermore, medications were often left unsupervised on med carts and anesthesia carts leaving hospitals vulnerable to JCAHO audits.
After learning about the challenges in the hospital industry, Dave envisioned and designed the solution. Instead of the old-fashioned metal lock boxes, our design has a clear door which allows for easy viewing of the inventory while keeping the inventory securely locked. Instead of using traditional metal keys, our design is keyless and is accessed with an electronic push button CompX lock with a safety key override. Riemer Systems launched its first product – the ClearView portable lock box.  Riemer Systems received their first patent in 2010. Hospitals across the U.S. now had an affordable secure keyless solution for securing and managing medications while staying compliant with JCAHO.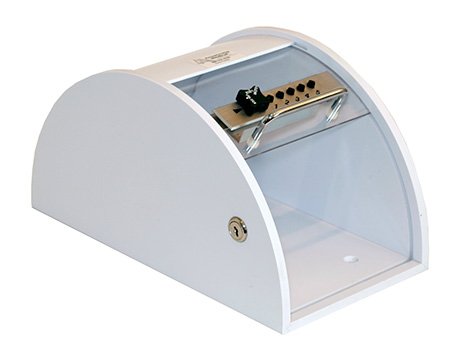 Development of Product Portfolio
With our first product in the market for several years the feedback from hospitals was very positive.  The hospitals loved the features of the EasyView portable lock box and asked if we could offer a wall mounted version with the same great features – keyless lock, clear door and safety backup key override lock.  In 2010, Riemer Systems launched the wall mounted locking cabinet providing a secure medication management solution to hospitals (patient rooms and bulk storage), clinics, long-term care facilities, VA Medical Centers, military barracks and schools.
DEA Compliance & TS-TEK Tracking Software
In 2012, Riemer Systems partnered with TS-TEK and introduced our Portable Electronic Control Box (PECB) and Tracking Software solution for the pharmacies serving the long-term care industry. We were contacted by a large national pharmacy providing medications to the long-term care industry. The issues they faced were securing pain medications to and from the pharmacy while fulfilling all of the prescription requirements for DEA compliance. Their option, at the time, was to install expensive automated drug delivery dispensing systems at all of the nursing homes and assisted living facilities they were servicing. Our solution was the Portable Electronic Control Box with the TS-TEK tracking software at a fraction of the cost while securing the pain medications every step of the way (reducing medication diversions) and keeping the pharmacy DEA compliant.
NFPA 101 & ADA Compliance
In 2021, during the COVID-19 pandemic, Riemer Systems worked with a VA Medical Center to custom design a wall mounted locking cabinet for hallways outside of the patient rooms and the infectious zone. The Hallway Compliant Keyless Wall Mounted Locking Cabinet was specifically to align with the NFPA 101 (Life Safety Code) requirements for fire exit corridors and the ADA requirements. It projects no more than 4 inches from the wall. 
Smart Locking Cabinet
Riemer Systems has partnered with Geokey to launch the Smart Locking Cabinet. The Smart Locking Cabinet is the ideal keyless secure storage solution for critical items in healthcare, research, and general industry. The locking cabinet is unlocked via the Geokey Bluetooth smart phone app and managed remotely to track authorized users.
Secure
All of our lock boxes come standard with a clear access door so you know where your secured medications and equipment are at the time of need. 
Smart
Our portable lock box solution is available with tracking software that captures DEA compliant data, generate reports, and tracks inventory from pharmacy to patient.
Simple
All of our products come standard with a keyless lock and safety backup key override lock.  A time saver- no more searching for lost keys.
Most of our products are available online for viewing and for purchase. Even though our products are available for purchase online, we encourage you to reach out with any questions or special requests. Our sales representatives can provide quantity discounts for your project.  Not finding a lock box solution to meet your needs – contact us for a custom quote.